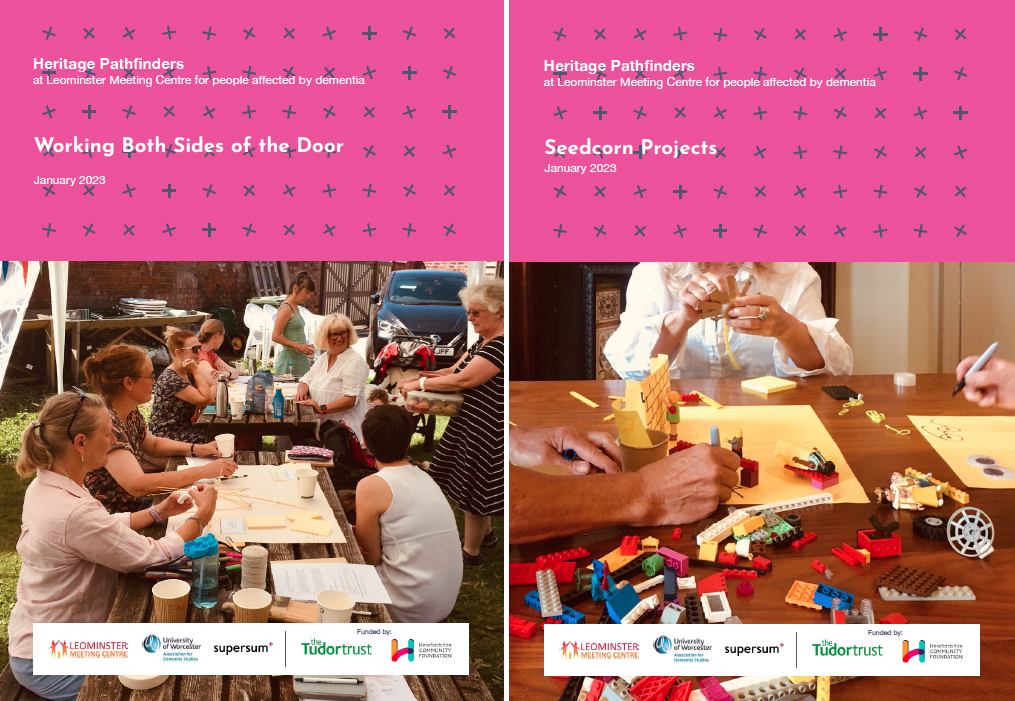 What is it?
This report and the accompanying case studies describe the work of Heritage Pathfinders – a cultural innovation programme that has helped creative and heritage professionals from the Leominster region to work closely with the Leominster Meeting Centre for people affected by dementia.
Who is it for?
The report and case studies are for anyone interested in how Meeting Centres can be drivers of cultural innovation in their own communities.
For Meeting Centre managers, these documents give an insight into how Leominster Meeting Centre is changing the conversation around heritage engagement in Herefordshire. 
For Creative and Heritage professionals, the case studies offer inspiring examples of including people with dementia to drive bold and innovative new work.
What have we achieved?
Heritage Pathfinders has invested £18K of Seedcorn funding into twelve new projects. These projects have brought new expertise in oral history, archives, crafting, blacksmithing, dance and movement therapy, song-writing and storytelling, archaeology and fine arts into Meeting Centre life.
The programme has:
helped up-skill creative practitioners to work with Meeting Centre members

helped introduce new types of activities into Meeting Centre repertoire

helped members identify sources of strength for adjusting to the changes dementia brings

helped Leominster Meeting Centre build new connections with local/national organisations
From an initial investment of £18K, a further £20k in additional funding has been leveraged for and by pathfinders to bring their projects to fruition and deepen their impact locally.
What does it cover?
The report outlines the design of Heritage Pathfinders, introduces the twelve projects developed, applies project insight to the Adjusting to Change model that lies at the heart of Meeting Centre work in their communities, and considers the future role of Meeting Centres in driving transformative social change where they are. The accompanying case studies document describes the twelve projects and their impact in more detail, asking what this work might mean for other Meeting Centres across the country.
How should I use it?
We hope our work with heritage Pathfinders will inspire the current generation of new Meeting Centres to work more closely with the unique heritage on their doorstep and explore their potential as investors in the creative and cultural life of their communities – a way to bring the Adjusting to Change model alive both sides of the Meeting Centre door. For those more established Meeting Centres, if our work chimes with your own, we'd love to hear more about your own ambitions for driving cultural innovation where you are.
What's next?
Heritage Pathfinders was a short-lived programme, but we can ask what the benefits of this way of working might be if sustained over a longer period of time: a Meeting Centre could become a recognised driver of innovation locally, could continue to expand the pool of creative partners in its community who engage in MeetingCentre life, and could build organisational resilience through broadening the networks of partners that resonate with Meeting Centre values. The Heritage Pathfinders model is one way to achieve this. We're looking forward to further testing and expanding this approach.
Get in touch: team@supersum.works
---
With Thanks
We would like to thank Leominster Meeting Centre – Joy, Dawn, the staff and its members for their deep engagement with this project. We'd particularly like to thank Cindy Watson for helping Pathfinder projects integrate into Meeting Centre routines and connect into Leominster's creative and cultural life. This work was funded by Tudor Trust and Herefordshire Community Foundation.